"Circle 'Round the Moon"
Michelle Sell & Ensemble
Moon Circle Records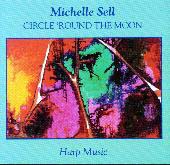 "I thought I really must write you a few lines to say how much I enjoyed your CD, Circle 'Round the Moon.' I shall await more lovely music from you!" Roger Summerfield, Worcestershire, England
"I have really been enjoying your CD, Circle 'Round The Moon.' Being a historical musicologist and a harpist, your music is a welcome relief from some of the rigors of the day." Dr. Shelley B. Archambo, Professor of Music, Midwestern State University


Rooted in the gracefulness of the classical tradition, this recording offers rich melodies and a wide variety of rhythmic colorings. Five tracks are collaborations with master cellist, David Darling. Circle 'Round the Moon features tasteful and elegant ensemble playing with crossover appeal.
Circle 'Round The Moon - Shade And Shadows

Night Groove - Three Sisters - Abode - Pastorale - Dancing Coyote

Cast No Stones - Soulstice - A Child Is Born - Sicilenne
~ Click on Highlighted Link for mp3 Sample ~
Produced by Michelle Sell and Victoria Allen
Michelle Sell: harp, piano, sampler
David Darling: cello
Janine del Arte: alto and soprano saxophone
Radhika Miller: alto flute, soprano recorder
Tony D'Anna: percussion, piano, kalimba
Kim Atkinson: percussion
Thomas Shader: acoustic bass
Stephen Iverson: fretless bass
Steven Sell: karmic support
Listen/Purchase/Reviews


Home

About Michelle Sell

Appears On/Other Artists/Current Projects


Weddings & Events

Harp Teaching & Lessons


Contact

CD's & mp3's

Press, Reviews, & Comments

Music Therapy

Links 1,
2,
3,
4

Site Map


Harp Column Interview with Michelle Sell


Event & Wedding Venue Photos


Wedding Music Samples & Repertoire


~ 2019-09-08 ~
~ ©2015, Michelle Sell, Moon Circle Records ~