~ Harpist for wedding music, event music, composition, or recording harp music ~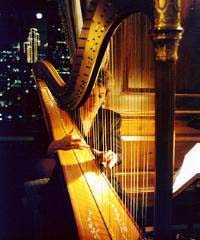 Wedding & Event Music
At left, Michelle plays a reception for Steve Young at the Fairmont Hotel Penthouse, San Francisco.
"It was so nice to meet you and please just know that if I ever hear of anyone needing music, I will absolutely send them your way."
Deirdre M, Wedding Client


| | | |
| --- | --- | --- |
| | Michelle Sell enjoys an extremely active career as a professional harpist. Since 1977, Michelle has played an average of 150-200 professional engagements per year. She has performed for the Queen and King of Thailand, the Grand Duke and Duchess of Luxembourg, former President Jimmy Carter, Academy Award winning director Francis Ford Coppola, rock star Sammy Hagar, and former SF 49'er quarterback Steve Young. | |
| | | |
| | Although Michelle is an alumna and former faculty member of San Francisco Conservatory, where she studied classical music with Marcella DeCray, she is also an award winning "pops" and jazz harpist. Her styles are diverse and extensive, ranging from Bach to Cole Porter. Michelle is also a composer for Omni Music in New York. Her original compositions have been used on television, radio, and in motion pictures. | |
| | | |
| | For private engagements, Michelle frequently uses a Camac electro-acoustic harp. Every string on this harp has a pickup or small microphone. This enables the harp to be heard - clearly - in venues seating hundreds. in contrast, at venues with just a few people, it is an intimate background instrument. Michelle believes that her clients are entitled to professionalism, punctuality, courtesy, and above all, the ability to hear the music for which they are paying. At large venues and at outdoor functions, a traditional acoustic harp may be difficult to hear if not amplified. There is no extra charge for using the Camac electro-acoustic harp and its amplification system. | |
| | | |
| | Whether it be wedding music, or event music for a fund raiser, event music for a reception, event music for a birthday party, event music for a retirement party, or even harp music for a simple afternoon tea or holiday affair, Michelle can play as a soloist or with flute, cello, bass, guitar, violin, or saxophone. Classical flute and harp are beautiful accompaniments for your wedding ceremony, while soprano saxophone, bass guitar, and harp are fabulous for your lively "jazzy" wedding reception. | |
| | | |
| | Michelle's local Bay Area venues cover Alameda, Contra Costa, Marin, San Francisco, San Mateo, Santa Clara, Solano, and the Wine Country Counties of Napa and Sonoma. More specifically, some of the cities and towns in which she plays are the following: Woodside, Walnut Creek, Vallejo, Sunol, Sunnyvale, St. Helena, South San Francisco, Saratoga, Santa Rosa, Santa Cruz, Santa Clara, San Rafael, San Jose, San Bruno, Redwood City, Pittsburg, Pinole, Petaluma, Palo Alto, Oakland, Novato, Napa, Mountain View, Monterey, Menlo Park, Marin, Los Gatos, Los Altos, Healdsburg, Hayward, Half Moon Bay, Guerneville, Geyserville, Fremont, Emryville, Dublin, Danville, Daly City, Concord, Carmel, Calistoga, Burlingame, Berkeley, Atherton, Antioch, and Alamo. | |

Sample Repertoire of Classical/Wedding Music
Adagio in G Minor ~ Albinoni
Air on a G String ~ J. S. Bach
Air Varie ( from Water Music) ~ Handel
Allemande ~ J. S. Bach
Anitra's Waltz ~ Sell
Aria from Don Giovanni ~ Mozart
Aria from the Pearl Fishers ~ Bizet
Aria from Tosca ~ Puccini
Arioso from Cantata No. 156 ~ J. S. Bach
Ave Maria ~ Bach/Gounod
Ave Maria ~ Schubert
Ave Verum Corpus ~ Mozart
Berlin ~ Einaudi
Bridal Chorus ~ Wagner
Canon in D Major ~ Pachelbel
Cello Suite in C ~ J. S. Bach
Chaconne ~ Purcell
Dance of the Blessed Spirits ~ Gluck
Fantasia ~ J. S. Bach
Fantasia No. 2 in D Major ~ Telemann
First Arabesque ~ Debussy
Flower Duet from Lakme ~ Delibes
Foreign Lands and People ~ Schumann
Fur Elise ~ Beethoven
Gavotte ~ J. S. Bach
Gnossienne No. 1 ~ Satie
Gnossienne No. 2 ~ Satie
Gnossienne No. 3 ~ Satie
Jesu Joy of Man's Desiring ~ J. S. Bach
King William's March ~ Clarke
La Ci Darem a Mano aria from Don Giovanni ~ Mozart
La Donna e Mobile aria from Rigoletto ~ Verdi
Largo ~ J. S. Bach
Largo ~ Handel
Liebestraum ~ Liszt
Meditation (from Thais) ~ Massenet
Minuet in G ~ J. S. Bach
Moderato Cantabile ~ Chopin
Moonlight Sonata ~ Beethoven
Musetta's Waltz from La Boheme ~ Puccini
Nessun Dorma from Turandot ~ Puccini
Nightbook ~ Einaudi
Nocturne ~ Chopin
Ode to Joy ~ Beethoven
O Mio Babbino Caro ~ Puccini
Pavane ~ Faure
Pavane for a Dead Princess ~ Ravel
Pictures at an Exhibition ~ Mussorgsky
Preludes 1-1V ~ J. S. Bach
Prelude in A Major ~ Chopin
Prince of Denmark's March ~ Clarke
Rhapsody on a Theme of Paganini ~ Rachmaninoff
Saint Anthony Chorale ~ Haydn
Sarabande ~ J. S. Bach
Shade and Shadows ~ Frazier
Sheep May Safely Graze ~ J.S. Bach
Sonata in C Minor ~ Dussek
Sonata in C Minor ~ Pescetti
Sonatine No. 5 ~ Nadermann
Sonatine No. 6 ~ Nadermann
Spring: Four Seasons (first movement) ~ Vivaldi
Spring: Four Seasons (third movement) ~ Vivaldi
Te Deum ~ Charpentier
Trois Gymnopedies No. 1 ~ Satie
Trois Gymnopedies No. 2 ~ Satie
Trois Gymnopedies No. 3 ~ Satie
Trumpet Tune ~ Clarke
Trumpet Voluntary ~ Purcell
Variations on A Theme ~ Haydn
Waltzes 1-V11 ~ Schubert
Wedding March ~ Mendelssohn






































Sample Repertoire of Popular/Jazz Music
A Child is Born
All I Ask of You, Theme from "The Phantom of the Opera"
A Time for Us
Affirmation
All of Me
All the Things You Are
Angel Eyes ~ Jim Brickman
Autumn Leaves
Beauty and the Beast, Theme from "Beauty and the Beast"
Bella's Lullaby, Theme from "Twilight"
Bewitched
Black Orpheus
Blue Bossa
Can You Feel the Love Tonight, Theme from "Lion King"
Can't Help Falling in Love
Chariots of Fire
Colors of the Wind, Theme from "Lion King"
Days of Wine and Roses
Early Autumn
Evergreen
Fields of Gold ~ Sting
Fly Me to the Moon
From This Moment on ~ Shania Twain
Green Dolphin Street
Here's That Rainy Day
I Left My Heart in San Francisco
I'll Remember April
Imagine ~ John Lennon
In My Life ~ Beatles
It Might As Well Be Spring
Kiss From a Rose ~ Seal
Love Me Tender
Married Life, Theme from "Up"
Memory, Theme from "Cats"
Michelle ~ Beatles
Misty
My Favorite Things
Night and Day
On A Clear Day
One Hand, One Heart
Only Time ~ Enya
Out of This World
Satin Doll
Send in the Clowns
Shadow of Your Smile
Someday My Prince Will Come
Somewhere in Time
Somewhere My Love
Somewhere Out There
Stella by Starlight
Sunrise Sunset
Tenderly
The Prayer
To a Wild Rose
Unchained Melody ~ Righteous Brothers
Unforgettable
Watch What Happens
Watermark ~ Enya
What A Wonderful World
When You Wish Upon A Star
When Sunny Gets Blue
Willow Weep for Me
Yesterday ~ Beatles






































Sample Repertoire of Brazilian/Portuguese Music
A Natureza ~ Santos/Luna
Bincho Carpinteiro ~ Reale
Desafinado ~ Jobim
Dindi ~ Jobim
Favela ~ Jobim
Girl From Ipanema ~ Jobim
If You Never Come to Me ~ Jobim
Na Madrugada ~ Portinho
Nao Me Toque Assim ~ Santos
Polichinelo ~ Gade
So Pra Mim ~ Pixinguinha
Triste ~ Jobim
Wave ~ Jobim






































Sample Repertoire of Celtic/Medieval Music
A Rosebud By My Early Walk
Annie Laurie
Au Renouvel du Tens
Brian Boru's March
Carrickfergus
Chanconeta Tedesca
Chanson
Comin' Thro' the Rye
Danny Boy
Edi Beo Thu, Hevene Quene
English Estampie
Fisher's Hornpipe
Greensleeves
Hardiman the Fiddler
My Love Is Like A Red, Red Rose
My Lady Carey's Dompe
Plearaca by O'Carolan
The Blue Bells of Scotland






































Sample Repertoire of Jewish Music
Al Kol Eleh
Artza Alinu
Bashana Haba'ah
Dodi Li
Hana'ava Babanot
Hava Naglia
Hevenu Shalom Alekhem
Hine Ma Tov No. 1
Hine Ma Tov No. 2
Hodaya
Jerusalem of Gold
Kozatzke
L'kha Dodi
Mitzva G'dola
Od Yishoma





































Sample Repertoire of Christian Music
Abide With Me
All Hail the Power of Jesus' Name
All People That on Earth Do Dwell
Amazing Grace
Blest Be the Tie That Binds
Fairest Lord Jesus
For the Beauty of the Earth
Holy, Holy, Holy
How Great Thou Art
Jesus Loves Me
Kum Ba Yah
Morning Has Broken
Nearer My God to Thee
Now Thank We All Our God
Rock of Ages
Simple Gifts
Other Traditional Church Hymns






































And of course, Michelle can play her original CD compositions.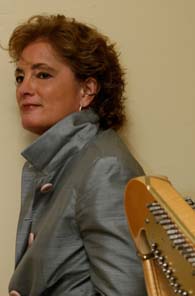 Wedding, Wedding Reception, & Other Event Music
Michelle can also compose original music for your wedding or other event.

Here are a few mp3 samples from a recent composition she did for a wedding in San Francisco:
Wedding Harp Music Sample 1 ~ Wedding Harp Music Sample 2 ~ Wedding Harp Music Sample 3

For more wedding & event music samples, please go to Wedding Music Samples & Repertoire


Wedding Rates

Comments from Past Clients
"After talking to other harpists, we really wanted to go with you because you truly cared about making our day special. I had a good feeling after interviewing with you and my intuition was correct!"
Thuan and Anthony T, Wedding Clients, Hakone Gardens, Saratoga, Ca.
"You were amazing! All of my worries and fears just melted away. You have no idea what an incomparable feeling of exhilaration it was to walk out there to my favorite music in the world and to hear it played so unbelievably beautifully. Deepest and warmest thanks again for everything, Michelle...."
Ann M and Chris F, Wedding Clients, Alta Mira Hotel, Sausalito, Ca.
"Your music is and was very gorgeous! There are no words to express the way you played so beautifully."
Victor and Priscilla H, Wedding Clients, Commodore Marina, Alameda, Ca.
"You were phenomenal! The harp music you played was beautiful and so romantic. Again, thank you for all your work!"
Jenny and Chris, Wedding Clients, Dublin Ranch Golf Course, Dublin, Ca.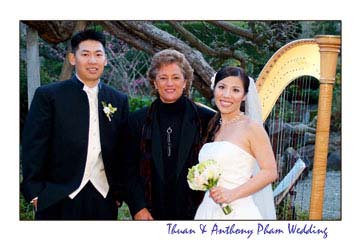 "It was great meeting you at the pre-wedding session and, thankfully, you thought of every detail! Thank you for your attention to detail and making the day wonderful for us! Please let us know if you ever need references!"
Melissa and Ian, Wedding Clients, Stern Grove, San Francisco, Ca.
"We just got back from our honeymoon, and I wanted to write a quick word of thanks for the lovely music you played at our wedding. Thanks again for helping to make our wedding beautiful!"
Corinne C, Wedding Client, Chateau Soverain, Geyserville, Ca.
"Michelle, I wanted to personally thank you again for the beautiful music you enchanted my wedding day with. It was absolutely breathtaking! On our wedding video, I could stop and rewind parts over and over and absolutely love hearing your talent. You're so amazing!"
Chrstine and Matt; Wedding Clients, St. Raymond's Catholic Church, Dublin, Ca.
"Now that the Ted Turner dinner is history, I'd like to thank you for your beautiful music!. Your presence and your talent added just the right amount of class to the private reception at the Ritz Carlton."
Linda W, Regional Director, Business Executives for National Security
"Thanks again for making such an amazing contribution to our wedding!"
Heidi B, Wedding Client
"On behalf of the USF Center for the Pacific Rim, I want to thank you for your participation in our gala. You are a wonderful harpist!"
Staff, Center for the Pacific Rim, USF
"Thank you again for a wonderful performance. It was a pleasure working with you!"
Kylie S, Store Manager, Macy's West
"We are still receiving kudos for the music. Thank you for sharing your talent and professionalism with us."
Thomas O, Healthcare Forum
"Thank you for playing your harp during our ceremony. We appreciate your professional attitude during the consultation, music selection, and wedding day. We're so glad we found you!"
Lily and Nelton W, Wedding Clients
"Thank you again for being part of our special day! Not only do you play the most beautiful music but you also truly seem like such a wonderful woman. It was so nice to meet you and please just know that if I ever hear of anyone needing music, I will absolutely send them your way."
Deirdre M, Wedding Client, Alta Mira Hotel, Sausalito, Ca.

Affiliations
Past President, Bay Area Chapter of the American Harp Society
Voting member, NARAS (National Academy of Recording Arts and Sciences, the organization responsible for nominating and voting on the Grammy Awards)
TMA (Theater Musician's Association)
RMA (Recording Musician's Association)
Member, Musician's Union, local #6, San Francisco
































Endorsements
Barcus-Berry
Planar Wave Harp System
(Amplification system for acoustic harps)
Pignose Amplifiers
































Corporate Clients
Bank of America
Shorenstein/Nederlander Organization
Macy's
PC World
Bechtel
Glaxo
Birkenstock
Kaiser
































Nonprofit Clients
National Public Radio
San Francisco Symphony
Marin Ballet
Breast Cancer Action
Japan Society
USF
Project Open Hand
Jewish Community Center
Guide Dogs For The Blind
St. Anthony's Foundation
Marin Breast Cancer Foundation
UCSF
Spectrum
NCLR


Home

About Michelle Sell

Appears On/Other Artists/Current Projects


Weddings & Events

Harp Teaching & Lessons


Contact

CD's & mp3's

Press, Reviews, & Comments

Music Therapy

Links 1,
2,
3,
4

Site Map


Harp Column Interview with Michelle Sell


Event & Wedding Venue Photos


Wedding Music Samples & Repertoire


See Michelle's page at:

And if you're planning a wedding or another event, while you're there, check out:
~ PartyP0P.com - Weddings ~ Recommended Links ~ PartyPOP.com - Event Planning ~

Also visit my friends at:
~ GoProMusic ~
~ the Harp Connection National Teacher Directory ~
~ Musicians Union Local 6 ~
~ Rev. Ed Holt - Wedding officiate ~
~ CeremonyWay.com ~
~ Piper Johnson Catering ~
~ the Landmarks Society ~
~ PurpleUnions.com ~
~ Nestldown ~

~ 2013-11-26 ~
~ ©2013, Michelle Sell, Moon Circle Records ~

~ Harpist for event music, wedding music, composition, or recording harp music ~