"Road to Home"
Michelle Sell & Ensemble
Moon Circle Records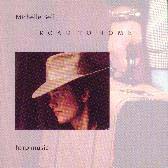 "First let me thank you for 'Road To Home.' I marvel at your talent and creativity. You are fantastic! My harp teacher thought so too after hearing your CD." Mary Kong, Honolulu, Hawaii
"I purchased a copy...while I was on Sanibel Island three months ago. I like it so much I am wearing it out!" Lynne D. Hirschman, Indianapolis, Indiana

Road to Home is a diverse collection of Michelle's original compositions, both ensemble and solo. Dedicated to the memory of her parents and in honor of her three irrepressible siblings, this recording musically chronicles our own internal journey "home." One of the solo harp selections entitled "Hand In Hand" is an intensely emotional composition and is in honor of the last time Michelle and her mother touched hands. A more popular, contemporary flavor permeates most of the remaining songs whether they sound straight from the Caribbean as in "No Problem" (dedicated to her father), or "Can't Stop the Wind" with its strong melodic line and replete with chapman stick and drums.
Can't Stop The Wind - I Wonder Where You Went - Arroyo
Believe It - 4:30 Sharp - Heart Of Mystery - Road To Home - No Problem - Hand In Hand
Rivertown - Reincarnation Of Love - Anitra's Waltz
~ Click on Highlighted Link for mp3 Sample ~
Produced by Michelle Sell and Don Schiff
Michelle Sell: harp
David Darling: cello
Don Schiff: chapman stick, keyboards, programming, fretless bass
Ed Mann: percussion
Diane Lindsay: piano, keyboards, programming
Tom Duckworth: drums
Janine del Arte: soprano saxophone, clarinet
Tony D'Anna: piano, dumbek


Home

About Michelle Sell

Appears On/Other Artists/Current Projects


Weddings & Events

Harp Teaching & Lessons


Contact

CD's & mp3's

Press, Reviews, & Comments

Music Therapy

Links 1,
2,
3,
4

Site Map


Harp Column Interview with Michelle Sell


Event & Wedding Venue Photos


Wedding Music Samples & Repertoire


~ 2019-09-08 ~
~ ©2015, Michelle Sell, Moon Circle Records ~